Have you ever had a bed bug infestation in your Nassau County home? If you've dealt with these creatures before, you know how difficult and disgusting they are when they invade. Most people have heard of bed bugs, but it's easy to assume you're safe if you've never had them before. Sadly, however, bed bugs in Nassau County can happen to almost anyone.
Once an infestation begins, it's difficult to remove them on your own, and they'll emerge at night to bite you. Bed bugs are disgusting, and no one wants to deal with them, so if you're looking for help with a bed bug problem, get some tips from the Parkway Pest Services bed bug experts.
If you need pest control in Nassau County, we hope you'll choose Parkway Pest Services. We use a combination of methods to make sure no bed bugs remain in your home. Join us as we look at what bed bugs are, how to detect them, how they get in, and what works to get rid of them from your Nassau County home.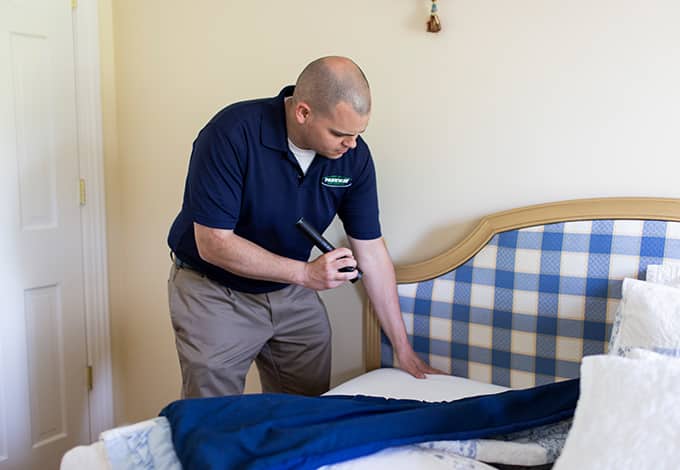 What Are Bed Bugs?
The insects we call bed bugs have been living with us since the earliest recorded history, and they have been found in fossils that date before that. The most important fact you need to know about bed bugs is that they are exclusively indoor pests.
We're often asked, "Where do bed bugs come from?" We're asked this because bed bugs can get into a home that has the best exterior pest control possible. The fact is, these insects don't live in the yard or get in through tiny gaps in exterior walls. They hitchhike from one location to another, and they do this passively.
A bed bug doesn't decide to live with you. It is abducted from its home. When it is brought into your home, it is going to make the best of whatever situation it finds. You can have the cleanest home in the world and still get a bed bug infestation.
In your home, bed bugs are going to do what bed bugs do. They hide in tight spaces and dark voids, and they prefer to come out at night to get a blood meal from sleeping humans. If necessary, they may infest couches, chairs, and other furniture and feed on humans during the day.
The Symptoms Of A Bed Bug Infestation
How do I know if I have bed bugs? The most obvious sign of a bed bug infestation is numerous bug bites, but this is not typically an early sign. If you want to catch bed bugs early, you'll need to know the symptoms of a bed bug infestation.
If one bed bug bites you, you're likely to have three red bumps on your skin. These bites will often be in a line or zig-zag pattern, and they may have an extensive rash around them.

As more bed bugs bite you (each one typically biting three times), you're going to have lots of red bumps. Tiny bumps are likely to start becoming larger bumps as the infestation persists.

When bed bugs come out at night, they may leave dark fecal spotting or streaks. You may find these on pillowcases, sheets, bedding, bed frames, furniture, baseboards, outlet covers, and other locations.

If you know where bed bugs hide, you can find early warning signs of bed bugs in your home. Drag a debit card along the seams of a mattress or box spring to bring black feces, white eggs, shed skins, or bed bugs to the surface. Check living room furniture as well. Bed bugs hide in tight spaces, recesses, and holes.
If you catch bed bugs early, you can prevent these pests from causing multiple bites, impacting your sleep, and causing other problems. The next step is to contact Parkway Pest Services for bed bug control, but first, it's helpful to know the ways bed bugs end up in our home.
How Bed Bugs Find Their Way Into Our Homes
Bed bugs are pest hitchhikers and stowaways that attach themselves to the things people carry with them. While they are parasites, they don't live on humans. However, they will grab onto items like luggage, purses, and clothing. Also, you can bring bed bugs inside if you purchase secondhand items that are already infected. You can pick up bed bugs in many places such as buses, hotels, schools, laundromats, offices, and more.
What if you don't have a bed bug infestation yet? If you don't, it is a good idea to learn how to prevent bed bugs from getting into your home. Here are some ways bed bugs can find their way into your home and some tips for how you can prevent this from happening:
Bed bugs can come home with you from vacation. Perform an inspection when you spend the night somewhere. Keep your laundry in a sealed bag. Put laundry through a 30-minute dryer cycle when you get home.

Bed bugs can come home from work or school. Be cautious about putting bags near the bags of co-workers or students.

Bed bugs can be picked up in public venues. Keep an eye out for bed bugs or warning signs, such as black feces and shed skins.

Bed bugs can be picked up in taxi cabs, buses, trains, and other forms of public transportation. Be on the lookout for warning signs when you travel.

Bed bugs can move through wall voids. Be aware of this if you live in an apartment.

Bed bugs can be inside used furniture. Inspect furniture before bringing items into your home.
These simple tips can make a big difference, but there is no way to fully ensure that bed bugs won't find their way into your home. If they do, it's best to take action as soon as possible. Next up, we'll explore the pros and cons of opting for professional bed bug treatment.
Pros And Cons Of Professional Bed Bug Treatments
Bed bugs are hard to deter, so don't feel bad if you end up with a bed bug infestation. If you are trying to remove bed bugs, you are probably considering DIY options and professional ones. Overall, there are many more pros to professional bed bug treatment than doing it yourself.
Professional bed bug control in Nassau County is much more effective because every bed bug and its eggs need removal, or the infestation will return. Bed bug professionals will ensure bed bugs are gone entirely and offer follow-up treatments.
The primary con most people think about is cost. It's easy to assume that professional services are much more expensive, but this isn't necessarily the case. Because experts can remove bed bugs safely and effectively, you won't have to spend time, money, and energy dealing with them on your own.
While the professionals will make the experience as easy as possible, there are still some things you may need to do before your home is treated. In the next section, learn some simple steps you can take to prepare for professional bed bug control treatment.
Preparing For A Bed Bug Treatment
Before a bed bug treatment, you can ask our team any questions and get specific advice. However, there are some general steps you can follow for particular areas of your house:
Bedrooms: Take bedding, clothes, and linens and wash them on high heat. Then, remove your mattress and bed frame and lean them against the wall.

Floors: Keep floors cleared of excess clutter. Vacuum beforehand.

Furniture: Pull furniture at least two feet away from the wall.

Closets: Remove any items that need to go to the laundry.
These steps will make the process go more smoothly, but feel free to reach out if you have any questions.
The Best Way To Get Rid Of Bed Bugs And Keep Them Out
Now that you know what you need to know about bed bugs, what works to effectively rid your home of bed bugs? At Parkway Pest Services, we use the most advanced bed bug control solutions.
K-9 Bed Bug Inspectors help us to find bed bugs, apply targeted treatments, and make sure all the bugs are gone. Dogs are used for detecting ammo, drugs, blood at crime scenes, the scent of a missing person, and more, and they're great for finding bed bugs.

We use natural solutions such as mattress and box spring encasements and steam treatments.

We apply conventional treatments to add even more control where needed.

We offer year-round control plans and monitoring programs.
Bed bugs can ruin your sleep and make living in your home a stressful situation. These pests are blood-feeding parasites that no one wants to have around. So, if you need help removing bed bugs from your home, Nassau County pest control experts are your best bet.
When you need local pest control for bed bugs in Nassau County, you can count on Parkway Pest Services. Reach out to us today for assistance and to learn more about our pest control services in Nassau County.