When ants invade, it can be sudden and overwhelming. One day your kitchen is spotless; the next, it's crawling with ants! How does this happen? And why? What can you do to stop them? Your Nassau County pest control experts are here to answer all of these questions and more. Prepare yourself against invading ants by learning what factors attract them, how they get into your home, and how to prevent and get rid of ants.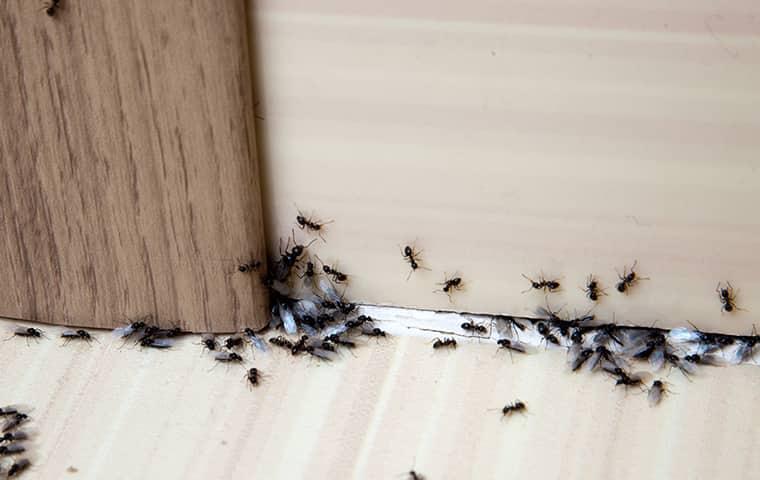 What Are Ants Attracted To?
There are several factors that may attract ants to your home. However, different types of ants can be attracted to different things, so let's start by identifying the species of ants common to Nassau County. Here are some types of ants that you may encounter on your property:
Red Imported Fire Ants: Fire ants often build mound nests in residential yards and will sting if disturbed.

Pharaoh Ants: Pharaoh ants are yellow with dark brown or black abdomens. They transmit numerous diseases and are especially a problem in medical facilities.

Pavement Ants: Pavement ants are dark brown or black and about 1/8 inch long. They are named for their tendency to nest in cracks in the pavement but also infest buildings.

Carpenter Ants: These wood-destroying ants are named for their habit of tunneling through wooden structures. Carpenter ants can be red, black, or a combination of the two.
All of these types of ants are constantly searching for food and water. Moisture issues in your home, such as leaks or humid areas, provide hydration for ants. Crumbs and food or drink spills will similarly attract ants. They are also drawn to fresh fruit and pet food that may be sitting out.
Some species of ants are attracted to specific factors. For example, carpenter ants will be more likely to infest homes with wooden elements, and fire ants like to nest in sunny areas of yards and landscaped spaces. If you have concerns about ants on your property, contact Parkway Pest Services for ant control services in Nassau County.
How Are Ants Getting Into My Home?
Now that you know what is attracting ants, you may be wondering how they are getting into your home. Whether it is pavement ants or any other species, all ants gain access to your home in the same ways.
No home is completely sealed off from the outside elements, so there are always small spaces through which ants can enter. Ants are tiny and can fit through the smallest cracks and gaps in the exterior of your home. Often, ants crawl through areas where pipes or wires enter the house. They may also slip in through cracks in your home's foundation, spaces underneath the flooring, or simply through open windows and doors.
While there are preventative steps you can take to seal off these entrances, it's virtually impossible to eliminate every point of entry for ants. If ants are getting inside your home no matter what you do, it may be time to seek professional ant control in Nassau County.
Can I Completely Get Rid Of Ants?
Ants are persistent pests and can be challenging to completely eliminate. You may have some success with store-bought sprays and traps, but it is difficult to get rid of the entire ant population in your home with these methods. Plus, even if you kill every last ant, a new group may come marching in to take their place. Outdoor ant control is also challenging to handle on your own, and removing fire ant nests can result in painful stings.
If you want to get rid of ants and keep them away completely, your best course of action is to work with a professional service. Parkway Pest Services provides quality ant control solutions for Nassau County and can help you fully eliminate the ants on your property.
Is There A Way To Prevent Ants?
Professional indoor and outdoor ant control is the best way to keep ants away from your property, but there are also ways you can help prevent future infestations. Here are some tips for keeping your home ant-free:
Address any moisture issues on your property.

Seal small cracks, gaps, and holes on the exterior of your house.

Use proper trash storage and disposal.

Store fresh fruit in the refrigerator and use sealed containers for food.

Keep shrubs and tree branches cut back from your home's exterior.

Remove food particles by cleaning surfaces and floors regularly.
These guidelines will make your home less accessible and attractive to ants. However, if an ant infestation does occur, contact Parkway Pest Services for effective ant control solutions.