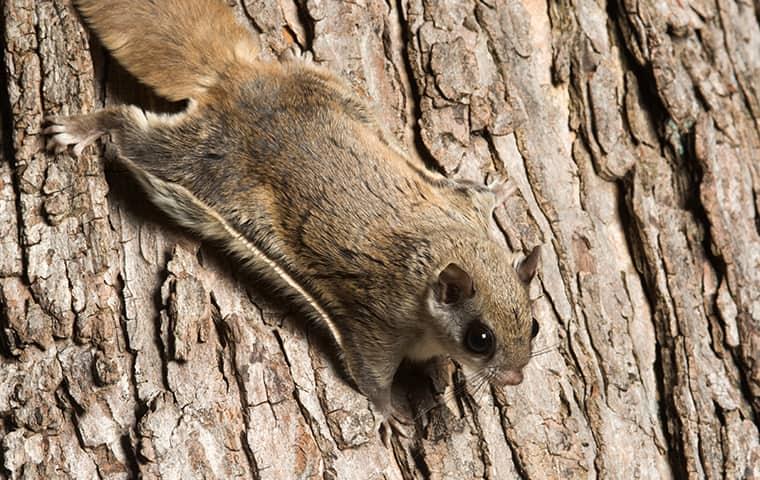 A frequent visitor to homes around New York is the flying squirrel. Easily recognized by its large eyes and flap of skin located between the front and back paws, it is much admired for its uncanny ability to get around. These furry little creatures will glide from one tree to another across your yard up to 150 feet giving the illusion that they are flying. It's a great escape mechanism that they use to quickly get out of the path of potential danger.
Flying squirrels, like other small wildlife, will make their homes near a consistent food source. This is something that people provide them without meaning to all the time. Bird feeders, nut trees, as well as water containers such as bird baths all can attract them to a New York backyard. Frequently, these squirrels will take that as an invitation to move right into an attic or crawl space to nest. The fact is any wildlife animals that try to make its permanent home in your home can become a danger to your friends and family. This includes the flying squirrel.
The problems begin with the damage that they can cause by their need to chew on building materials while they make themselves more comfortable. Flying squirrels have been known to cause quite a lot of damage to insulation and other material nearby. If a squirrel makes itself at home for too long before being discovered, a homeowner might be looking at hundreds of dollars in repair work needing to be done and will definitely need to have the insulation replaced.
The droppings that they will inevitably leave behind can pose a health risk to humans by spreading salmonella, normally called food poisoning. Salmonella causes vomiting and diarrhea that can lead to serious complications requiring medical treatment if it gets severe. Squirrel feces also can carry leptospirosis which manifests as mild flu-like symptoms such as head and body aches, fever, and chills. Any severe symptoms of leptospirosis should also require medical treatment.
Flying squirrels, like other furry creatures, carry with them parasites like fleas and ticks when they enter your yard. These pests will easily transfer to your home whether you have a pet or not. Fleas can quickly spread throughout your home leaving hundreds of these tiny bugs hopping around carpets and furniture waiting to be able to get a bite. Fleas come with other health risks such as cat scratch fever, typhus, or even the plague. Ticks are carriers of Lyme disease which has become a huge problem all over the United States in recent years.
With flying squirrels, as with any other wild animal that enters the home, it is essential that you do not try to remove the threat yourself. As cute as these little creatures are, all wild animals will retaliate if they feel threatened. They could potentially bite or scratch to defend themselves if they find themselves unable to run. A flying squirrel will typically glide away from danger but will be unable to do so in their attic nest. It is important if a flying squirrel is discovered to call in a professional.
Contact Parkway Pest Service right away. For emergencies, our office can dispatch a technician for same day service. Otherwise, we can often be there the next day to help you deal with the problem. Parkway Pest Services has been helping New York homeowners keep their families safe from pest problems, including wildlife removal services, since 1932. Our professionals can safely take care of what threatens your home quickly and safely.