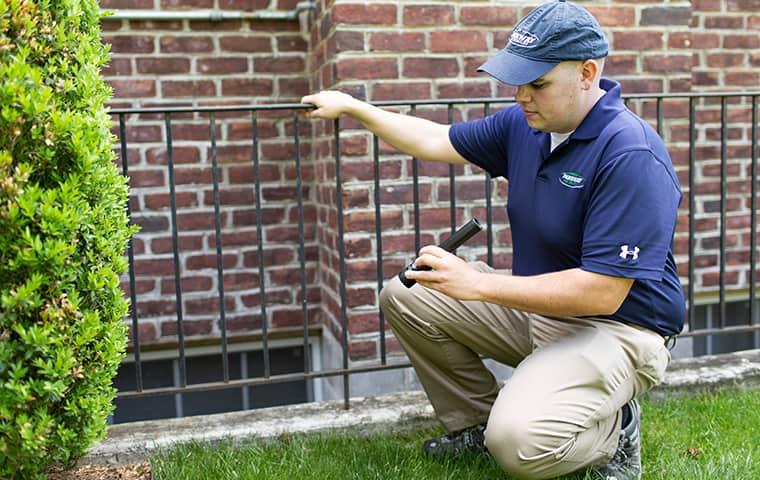 If you own a home in New York or if you are looking to buy a house in the area, the Long Island exterminators urge you to schedule a termite inspection! In fact, for those buying, your mortgage company may require one before the sale can be completed. In addition to satisfying their requirements you really want to make sure that the home you are bringing your family into is safe and termite free. Even if you've lived in your home a long time, that does not mean you don't have to worry about termite damage and active termite colonies. These wood destroying pests work behind the scenes which means that termites may already be present in your home and working 24/7 right under your nose.
Why are termites so hard to locate?
Termites in New York can have colonies up to 300 feet away from where they are feeding (aka eating the wood in your home). If you visualize a 300-foot radius around your home, you'll agree that a termite colony (or several colonies) could be just about anywhere on your property or even a neighboring one. Termites can also be hard to locate because they live and travel under the ground, which means that aside from mud tubes that can be spotted, you may not ever see termites. Lastly, as we mentioned above termites consume wood from the inside out so what looks like sound, intact wood could actually be damaged and you wouldn't know it until the damage became significant.
Yes, you should be worried about termites and your home.
Here in the U.S. alone, termites are responsible for over $5 billion in property damages each year. This makes them a serious threat to those who own homes now and those looking to buy a home. The best thing to do to ensure that you are not left with extensive and costly structural damages is to have a professional termite inspection in New York completed this spring! For those who currently own a home, this could and should be part of your home maintenance and possibly included in your year round home pest control services. And for those who are looking at a home to buy, talk to the realtor or current owners about having a termite inspection before you buy. This will save a lot of headache down the line.
At Parkway Pest Services, we have been helping homeowners in Long Island and throughout New York and parts of Connecticut identify and treat termites for a long time and have a keen understanding of these pests and what it takes to get rid of them. In fact, we offer termite inspections and documentation including the NPMA-33 form. If no termite activity or evidence of an infestation is present we'll document that appropriately. If we do find signs of termites, our experienced New York termite exterminators will recommend the best way to take care of the problem and may include traditional termite treatment or the installation of the Sentricon ® Termite Colony Elimination System, which is designed to eradicate existing termite activity as well as prevent new colonies from forming. In addition to our comprehensive termite control services, we offer a home pest control program that targets common household pest but also includes the use of termite monitoring devices.
For more information on termite inspections and control, please contact Parkway Pest Services today and ask about our termite control in Nassau County, Westchester County and throughout our service area.