What Are Pantry Pests?
Pantry pests, also known as stored product pests, are pests that invade food items such as flour, rice, beans, cereals, and many other grain-based items, including pet foods. The most common pantry pests in New York include:
Indian Meal Moths
Cigarette Beetles
Drug Store Beetles
Saw Tooth Grain Beetles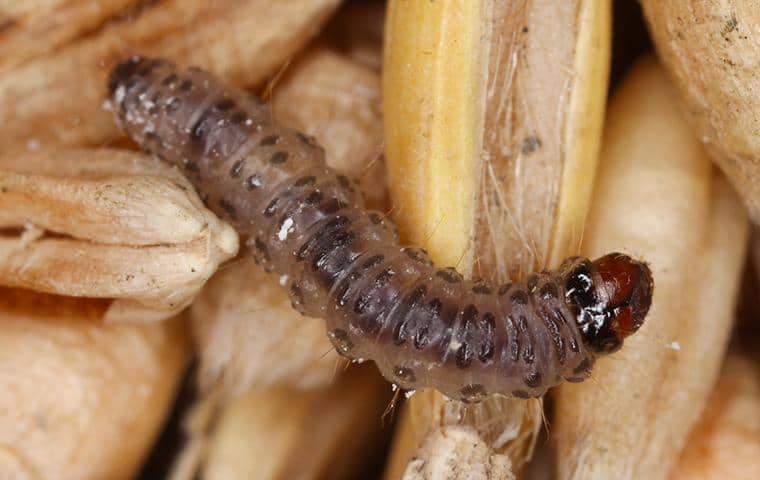 Things You Should Know:
Pantry pests are often found in stored products.
They are brought into the home by previously contaminated foods.
They are not dangerous to humans.
If they are found in food, the food should not be eaten because it is contaminated.
Why Are They In My House?
Pantry pests are most often brought into homes from the grocery store in items that were already infested.
Are Pantry Pests Dangerous?
Pantry pests are not dangerous to pets or humans. None of the common New York stored product pests bite or sting; however, the foods that they have infested are considered contaminated and should not be eaten.
What Does It Take To Get Rid Of Pantry Pests?
Because of the vast number of products that pantry pests can be found in, they can be very difficult to find and eradicate. On top of this, many of them reproduce very quickly; a female Indian meal moth can lay hundreds of eggs within the first couple of days of emerging from its pupa. An inspection by a trained pest control professional is almost always needed. Parkway Pest Services has the expertise to help you with any of your stored product pest problems. Contact us today for more information.

How Soon Can You Get Here?
At Parkway, we understand that it is important to you to take care of your pest problem as soon as possible; therefore it is important to us, as well. Emergency and same day service is available and in most cases we can be there the very next day.

Is The Treatment Safe?
Here at Parkway Pest Services, we pride ourselves on being Green Shield Certified and we use Integrated Pest Management (IPM) techniques, so that our treatments are much safer for you and your family. IPM techniques include far fewer uses of chemicals, using them only as a last resort. Instead, we focus on baiting and the exclusion of pests.

How Can I Prevent A Future Infestation?
Because of the fact that most pantry pest infestations originate at the grocery store, they can be very difficult to prevent. Carefully inspect all items before purchasing and avoid items that appear to have been opened or torn. However, there is one sure way to avoid a pantry pest infestation: a protection plan from Parkway Pest Services provides complete pest protection for pantry pests and most of the pests commonly found in the Nassau County, Suffolk County, and NYC areas. Contact us today for more information!
PestGuard Protection
Designed to control the basic needs of pest control, this plan effectively protects your home from occasional invaders that are frequently encountered as well as most wood destroying insects. In addition to controlling carpenter ants, cockroaches and other insects and rodents, this home pest control plan includes treatment of yellow jackets within two feet of the dwelling. With our friendly and knowledgeable exterminators on the job, you can say goodbye to ants in the kitchen, mice in the attic and the other pests scattered throughout the house.

4 Visits Annually

Pest Identification

Covers 30+ Common Pests

Interior & Exterior Service

Unlimited Service Calls