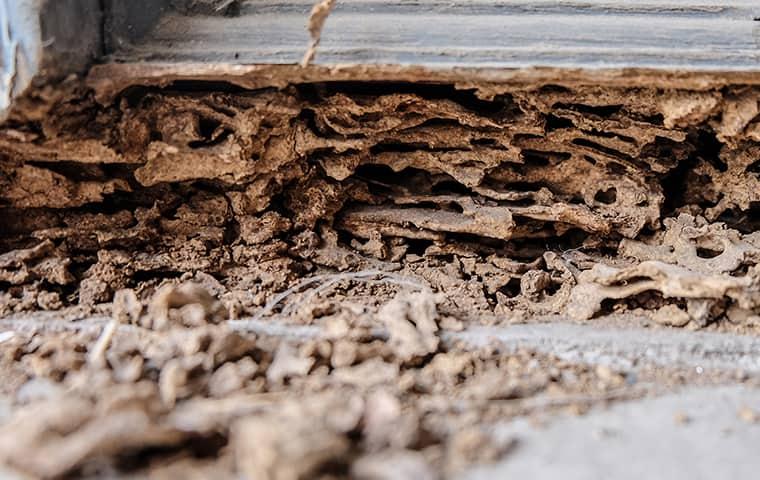 At Parkway Pest Services, we have recently discussed a lot to do with termite swarms, which take place in the early months of the spring each year, but what about the other signs of termites? These wood destroying insects are capable of causing extensive structural damage and although they are a tricky pest to catch, termites need to be caught early before too much damage has been done. There are some common signs of termite damage besides termite swarms that can help homeowners detect a termite problem early on.
Look for mud tubes on your property
Termites in our areas use these tubes to live and travel to wood sources all while remaining underground. They will die if they are exposed to light and air, which is why the tubes are a sure sign of their presence. The bad news is that these mud tubes give termites the ability to establish colonies over 300 feet away from your home but still have easy access to it.
Inspect the wood inside your home for damages
It can be hard to trace, but there are subtle ways to detect the presence of termites inside your home. The problem is that termites work from the inside out on wood so they can go a long time with no way to detect them. But if you do notice any of the following damages in your wood you may have a termite problem:
sagging windows or door frames

hollow sounding walls when you tap

buckling wood on floors

any cracks in wood

ceilings that appear to be drooping

small holes in wood which are used to push out termite waste
If you have identified any of the following signs of termite damage on your property or inside your home, it is important to get a professional in termite control to inspect your house right away. If you're located in Manhasset, Syosset, Great Neck or elsewhere in our New York and Connecticut service area, Parkway Pest Services can help. Our trained technicians will be able to identify the source of your termite problem and not only get rid of the existing termites, but also prevent any new ones from causing problems.
Don't let the termites take over, contact us today for effective termite control solutions!